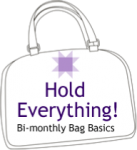 A bi-monthly bag basics demo! Join Gina in the studio where she will demonstrate tips and tricks in a series of Patterns byAnnie. (You make your project at home.)
Not only will you have fun projects to get yourself organized – you will learn useful skills and techniques that will help you as you progress to more challenging projects. For example, learn how to make your own bias binding, create zippers of any length by adding zipper pulls to zipper tape, cover strapping with fabric to coordinate with your projects, sew with vinyl, make mesh pockets, and MORE!

June 26: Stash and Dash. This handy little wrap features three inner pockets made from mesh for easy visibility of contents. Each pocket has a zipper closure — no need to worry about things falling out! A clear vinyl slip pocket on back and an expandable strap closure finish off the bag. (Finishing kit cost varies according to pattern).

Demo meets at 10AM OR 6PM. RSVP; $15
This monthly Club is for stitchers who are interested in hand work. Club meets every first Thursday at 10:30. Work on a variety of projects including wool applique, embroidery and English Paper Piecing. Each month features a technique or stitch demo; show & tell and a light pot-luck lunch! Work on your projects in the Studio and enjoy community time with fellow stitchers! Enroll now! Monthly drop-in fee: $5. Please RSVP.
May 3: BOHO and more stitches!

Please Note: Our June meeting for Inspired Hands is the second Thursday, June 14. This is a one time change for 2018!

Please Note: Our June meeting for Saturday Sampler is the third Saturday, June 16. This is a one time change for 2018!

This program meets every second Saturday at 10AM. Come join our community of quilters and sewists! Make a block each month for a free fat quarter to use the following month. Earn free project patterns and "Sew Inspired Cash" to use at future auctions! Enrollment fee: $20.



It's a great opportunity for learning and sharing a passion for the quilt finishing process. Whether you are a new owner, an experienced user, or are considering a long arm purchase, the club offers a great educational and social opportunity. No membership required.
For our Handi Quilter Pro-Stitcher customers the main session is followed by a Pro-Stitcher specific training session.
Come from 2-4PM for basic long-arm club, or extend your stay an hour for our Pro-Stitcher add on! Fee: $15 (2-4PM), $20 (2-5PM).
Club meets on the first Saturday of the month; please RSVP!

May: Special Guest Peggy Thompson - Pantographs
Enjoy a monthly get together where club members laugh, learn, and are inspired by creative ideas. Learn a new technique each month for fun, smaller projects. This is a

social event and demonstration. Projects are made at home.
This five-month program (September-January & February-June) features quick and easy patterns created by top designers in the quilting industry.
Projects may include home decor, stitchery, quilting, and sewing. Club meets first Saturdays at 10AM.

$35 fee per 5-month session includes your pattern each month.
We'll begin enrollment for our fall session June 2, 2018
Another great Mystery! Introducing Quilter's Friendships
Two great sizes to make: Single Size 70″ x 98″ or Queen Size 104″ x 104″
Two great fabric collections to choose from: La Vie en Rouge by French General for Moda or Portsmouth by Minick & Simpson for Moda.
8 Monthly Installments with clear instructions and color diagrams. Club meetings on 2nd Saturdays in the afternoon with demos, clue review, recipes and free patterns and open sew time. Skill level: experienced beginner and up. $25 registration (covers pattern cost). Call to reserve your kit today!
Club begins September, 2018