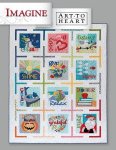 Available Now! Create this adorable 66" x 85" quilt with positive, inspirational words for each month with the Imagine Block Of The Month by Nancy Halvorsen! 12-month program featuring the Bree collection by Nancy for Benartex. The applique pieces are pre-fused and laser-cut so you simply peel of the paper, place on the fabric square, iron on and sew the edges! $20 registration fee $29.95 a month includes your book, all fabric for the quilt top and the button embellishment pack. (Also available as a wall-hanging per month program for $23.95/mos.)



NEW Tranquility BOM begins January 2018.

Three more spots remaining

. Enroll now for this 12-month BOM beginning in January. Kits will include patterns and all fabrics needed to complete the top and binding. The finished quilt is 106" x 106" quilt. Registration fee: $26. Monthly fee: $20.




The Bristle Creek Farmhouse BOM quilt features a Tree of Life center medallion, surrounded by 14 different 6" blocks, repeated to create this showcase design. Both traditional and triangle paper methods are used to create the quilt. 12 month program begins in February 2018. Registration fee: $20; Monthly fee: $27
Coming in March, 2018!
Painterly inspired prints of watercolor roses, wood planks, and spatters combine with interesting textures and motifs to create Nancy's TWILIGHT TONES collection. The lush, trans-seasonal palette features shades of teal, berry and pear green, reminiscent of gardens depicted in the works of Impressionist artists. For the BOM quilt, Nancy gives quilters appliquéd and pieced block options.
Now available as a complete kit! Rachel Pellman's festive holiday motifs are beautifully re-imagined for Holiday 2017 with a very special Row Quilt BOM! 7-month program begins in May. Make a row each month for 6 months, then finish with sashing and borders. Quilt finishes to 40-½" x 51-½."